Just Noticeable Difference
In collaboration with Chris Salter and Harry Smoak.
Just Noticeable Difference (JND) is a sensory environment for one person at a time lying in total darkness. The installation is based on Gustav Fechner's concept of the Just Noticeable Difference: the ability to perceptually detect the smallest changes in sensory stimuli. During a set time period, visitors experience an extraordinarily wide range of visual, auditory and tactile sensations that challenge how we perceive the smallest degrees of change in sensory stimuli over different levels of intensities. Just Noticeable Difference explores the gaps in seeing, hearing and feeling, the fluctuation of noise and order and the play between sensation and sense making directly taking place at the level of bodily experience.

Credits
Concept/Direction: Chris Salter
Sound Design: Marije Baalman/Chris Salter
Sensing/Programming: Marije Baalman
Light: Harry Smoak
Production Management/Artistic Assistance: Brett Bergmann and Matthieu Tremblay
Installation Construction: Jan Ohl (Holzwerkstatt, Berlin), Duncan Swain and Justine Chibuk (Montréal)
Technical Direction (Europe): Thomas Spier, Marije Baalman, Bram Giebels
Funded with support from the Social Sciences and Humanities Research Council of Canada and the Conseil des arts et des lettres du Québec.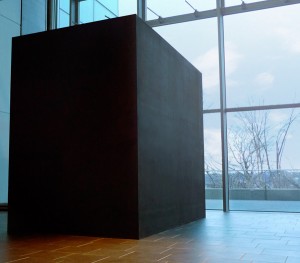 Exhibitions
Muffathalle, Muffatwerk, Munich, Germany, June 2013
Lille 3000, Tri Postal de Fives, Lille, France, November 2012
Exhibition Emergencias, Art & Arquitecture Programme of Guimarães 2012 European Capital of Culture, Guimarães, Portugal, June-September 2012
CTM.12 Exhibition, Kunsterlhaus Bethanien, Berlin, Germany, February 2012
TransLife 2011, National Art Museum of China, Beijing, China, July-August 2011
Elektra 12 (2011), Usine C, Montreal, Canada, May 2011
Mois Multi 12, Recto Verso/Meduse, Quebec City, Quebec, Canada
MetaMorf 2010, Biennale for Art and Technology, Trondelag Senter for Samtidskunst Trondheim, Norway, October-November 2010
TodaysArt 2010, The Hague, Netherlands, September 21-22, 2010
ISEA 2010, PACT Zollverein, Essen, Germany, August 2010
EMPAC (Curtis R.Priem Experimental Media and Performing Arts Center), Rensselaer Polytechnic Institute, Troy, New York, February 2010 (World Premiere)