The Scrempler is an instrument for live sampling and manipulation – meant for improvisation with other musicians.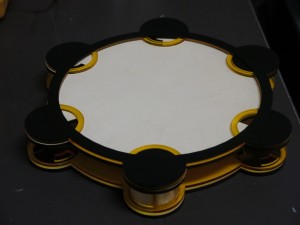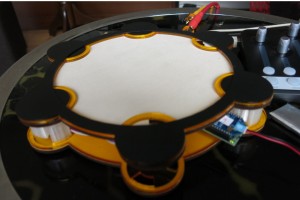 The Scrempler was designed using OpenSCAD, Inkscape, and MakerWare, using a lasercutter and 3D printer to make the parts:
lasercut plexi, triplex, 3D printed feet. Piezo microphones pick up the sound made on the top wooden plate. Sensors are home-made pressure sensors from conductive foil and foam – their data is transfered using a Sense/Stage MiniBee. Livesampling is done with SuperCollider – additional controls are currently coming from a Novation Nocturn midi controller.
Live improvisation at Oorsprong Curators' Series - Live in Βimhuis 10-01-15 with Wouter Snoei, Jan Klug and Toktek:
The Scrempler – a first preview from Marije Baalman on Vimeo.
Performances
March 27, 2017, Oorsprong Curators Series, Plantage Dok, Amsterdam, NL
January 10, 2015, Oorsprong Curators Series, Bimhuis, Amsterdam, NL
November 13, 2014, MAMCS, Strasbourgh, FR
November 7, 2014, Landmark, Bergen, NO
February 17, 2014, Oorsprong Curators Series, Poortgebouw, Amsterdam, NL