In collaboration with Chris Salter and Michael Schumacher
Schwelle II is a live dance theater performance with master improviser and former William Forsythe/Ballett Frankfurt dancer Michael Schumacher. During the fifty minute work, the spectators experience a person undergoing the traumatic transformation of the body in the period between death and rebirth. At first, the spectators witness an almost immobile Schumacher sitting at a table, condemned to execute a series of futile, minute tasks. Violent physical spasms and vocal outbursts interrupt this stasis, overtaking the performer's body.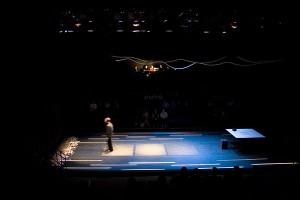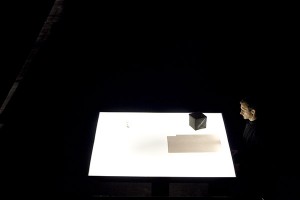 During this period, the room's behavior appears to be unrelated to the dancer's presence. Wireless photoelectric sensors distributed throughout the performance space measure the changes of light in the environment. Additionally, Schumacher himself wears several acceleration sensors which also gauge sudden changes of speed or tempo in his movement. The space thus makes its presence felt to the spectators through continuously fluctuating and repeating patterns of light and sound influenced by the sensing.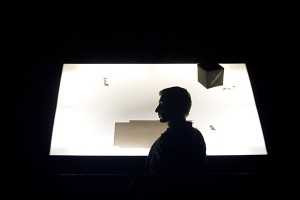 The room that Schumacher inhabits is itself a character, shifting from light to darkness for no apparent reason while the sound intensity builds up only to suddenly disappear again. The room moves through a series of states that convey feelings of nervousness, restlessss, meditation and anger. Gradually, however, the performance builds in choreographic and visual/sonic intensity as Schumacher's body begins to transform, the room's behavior becoming ever more coupled to his increasingly expressive, almost possessed movement. Finally, the earlier stasis of the performance gives way to fluid, ecstatic dance as Schumacher is released from his previous body, entering a new one.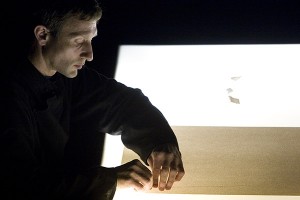 The work is inspired by the late plays of Samuel Beckett, the minimalist austerity and contemplation inherent in the works of Barnett Newman and Mark Rothko as well as the stories of before and after death experience described in the Tibetan Book of The Dead. Schwelle, Part II explores the in-between states experienced in daily life, from the edges of seeing and hearing, the moments between sleep and consciousness and the fragile border between life and death. Where does the body end and the room begin? What happens in the threshold where body and room merge, mutually influencing and transforming each other?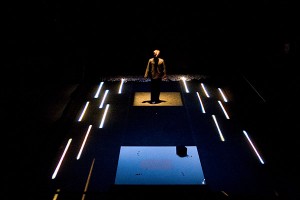 Credits:
Concept: Chris Salter
Direction: Chris Salter, in collaboration with Michael Schumacher
Performer: Michael Schumacher
Dramaturgy: Heidi Gilpin
Lighting Design: Lea Xiao
Lighting Interaction Design: Harry Smoak
Sound Design and Programming: Marije Baalman, Daniel Grigsby, Chris Salter, Philip Viel
Interaction Design/Sensing Systems: Marije Baalman
Objects: Thomas Spier and Thomas Beguin
Production Stage Manager/Technical Director: Harry Smoak
More information at Chris Salter's website
Performances
Festival EXIT, Maison des Arts Creteil, Creteil (Paris), France, March 2008
Place des Arts, Cinquieme Salle, Montreal, Canada, May 2007
Tesla – Transmediale 2007, Berlin, Germany, February 2007